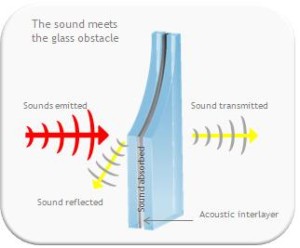 NOISE REDUCTION
Modern design trends emphasize the liberal use of glass in building exteriors and interiors, while building owners and occupants still demand the highest level of environmental comfort. Sound transmission into building spaces generally occurs through the weakest element – typically, glazing constructed of ordinary window glass.
In response, architects and designers must consider protecting a building's environment from increasing noise levels when specifying glazing materials for new and renovated structures. The proven sound-damping performance of  acoustic interlayers offers architects and specifying engineers a clear and compelling alternative for addressing these complex demands.  The easiest way to do this is through laminated glass.  Ask us today for more information!
Other Benefits of Laminated Glass 
In addition to the proven acoustic performance, Saflex interlayers deliver all the other benefits inherent with laminated glass including:
Safety: Protecting building occupants and pedestrians from accidental glass impact, breakage, or fallout.
Security: Providing burglary and forced-entry resistance, ballistic (bullet) protection and bomb blast resistance.
Storm: Providing hurricane force resistant technology to laminated glazing systems.
Solar: Filtering more than 99 percent of UV rays, controlling visible light radiation & reducing heat build-up & thermal stress.
STC (Sound Transmission Class) is the window industry measurement for a window's ability to lessen sound. Higher = Better.
NOISE IS REDUCED 50% FOR APPROXIMATELY EVERY 6 POINT RISE IN THE STC RATING. Factors that increase insulation do not necessarily reduce sound, and vice versa.
REDUCTION FACTORS

Frame Material
Style of Window
Glass Thickness
Mismatched Glass Thickness
Laminated Glass
Air Space Between Glass
Spacer System
[wpseo_address oneline="1″ show_state="1″ show_phone="1″ show_email="1″ show_url="1″]