Energy Star Products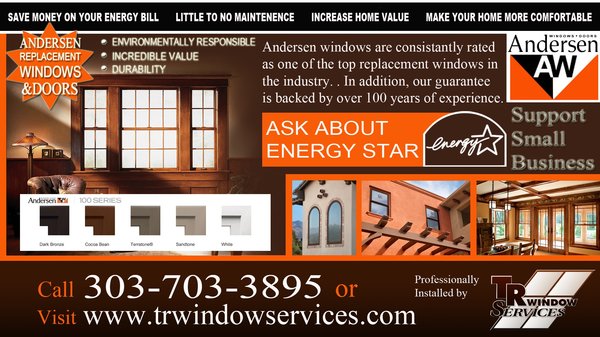 From the beginning stages of purchasing your windows and doors to the actual installation of your products, TR Window Services and our partnership with Andersen is with you every step of the way to assure you have quality performance products that will not only save you money but stay true for years to come. That is why we only use Energy Star Rated Products.
"Andersen's commitment to energy efficiency and environmental stewardship is a part of our heritage. It's in our nature, our company culture and every product we create," said Sal Abbate, senior vice president of sales and marketing at Andersen. "It's an honor we all share to be acknowledged for our environmental responsibility by ENERGY STAR with the Partner of the Year – Sustained Excellence Award."
Andersen was recognized with the 2013 ENERGY STAR® Partner of the Year – Sustained Excellence Award, on March 26, 2013. These awards reward ongoing leadership across the ENERGY STAR program including energy-efficient products, services, and new homes and buildings in the commercial, industrial and public sectors. Award winners are selected from nearly 20,000 organizations that participate in the ENERGY STAR program.
Andersen has been part of the ENERGY STAR program since its inception in 1998 and was the first window manufacturer awarded the ENERGY STAR National Window Partner of the Year in 1999.
You may be entitled to a tax credit of up to $500*** if you installed or plan to install energy-efficient windows in 2012 or 2013.**
Federal tax credits for certain energy-efficient improvements to existing homes have been extended through December 31, 2013. If you purchased and installed a qualifying product in 2012 or plan to in 2013, you may qualify for this tax credit.
We believe in improving your home as well as the best energy efficiency as possible. Especially in the extreme temperature variations in Colorado. We not only deal with the cold and snow…how many times has it been 30 degrees on a Tuesday and then the Wednesday following it was 75 degrees. Those extreme temperature differences in that close of a period, combined with out altitude and UV can cause breakdowns of certain, less expensive window products. Our windows and labor may cost more but there is a reason. Quality and durability! That is why we use the products we do!