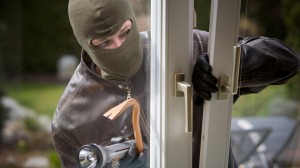 Windows open to catch a breeze. Doors unlocked while you work in the garden. Wallets, purses, and other valuables were left in plain sight. All those things make summer the peak season for home break-ins. Here are some inexpensive ways to keep burglars at bay during the summer and year-round.
Choose the right locks. About two-thirds of the keyed door locks tested managed to withstand a kick-in test; others needed a reinforced strike plate.
Secure glass areas. Security or safety window film can resist blows of up 400 foot-pounds, according to manufacturer claims. 3M's 28-ply Ultra Safety and Security Clear Window Film costs $7 to $9 per square foot or about $105 to $135 for a 3×5-foot window. It should be installed by a pro, which will add to the cost.
Keep it bright. Illuminate areas around doors, windows, and blind spots. Install lights high upon exterior walls so they can't easily be disabled. Our tests have found that solar-powered lights are too dim to provide enough light for security. But easy-to-install, low-voltage light systems and pro-installed,120-volt lights can be connected to motion detectors and whole-house security systems. Compact fluorescent lightbulbs made for outdoor use saved energy and outlasted regular bulbs in our tests, so you won't have to change them as often. But they take longer to reach full brightness and they don't all work with motion- or light-activated fixtures, so check the package.
Add an alarm. Some central-monitoring systems will call your cell phone if they can't reach you on your landline. Radio-based alarm systems that use dedicated UHF frequencies can be used as a backup or as a stand-alone solution that elimi- nates the need for landlines. Switching to an Internet-based phone service? Make sure it's compatible with your alarm. See "Scam Alert: Don't Get Ripped Off by an Alarm Company" for tips on choosing an alarm company.
We also provide a security option with the Andersen E Series Window called VeriLock.
VeriLock integrated security sensors are a cutting-edge technology that integrates wireless security sensors into most E-Series/Eagle® windows and doors. With these exclusive sensors, you'll always know if your windows or doors are open, closed, locked or unlocked.* This first-of-its-kind technology provides homeowners with a new level of convenience, beauty and peace-of-mind.
Just a small list of tips to help secure your home.