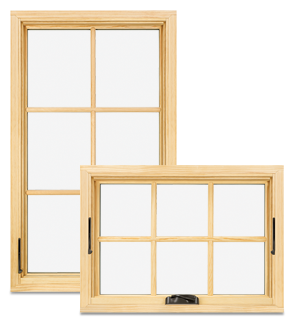 Elevate from Marvin Windows and Doors is expanding its industry-leading product line with new insert windows that combine tough fiberglass exteriors with warm wood interiors. Now there's an option for those who want Marvin Elevate's pioneering casement and awning windows in an insert application.
Essential's Wood-Ultrex Insert Casement and Awning windows add more great options for homeowners, builders, remodelers and architects who seek durable performance combined with lasting beauty.
Every Marvin Elevate window is made with Ultrex®, Marvin Elevate's patented pultruded fiberglass that's as strong as steel. Combining the industry's best high-performance finish with superior energy efficiency, Marvin Elevate windows outperform vinyl and composite products.
Now, that high performance joins the Wood-Ultrex Insert Double Hung for virtually any remodeling or renovation project.
Features of Marvin Elevate's new Insert Casement and Awning windows include:
Through-jamb installation
Various glass options, including standard LoE2-272® glass with optional LoE-180TM or LoE3-366®
Optional factory applied Window Opening Control Device for greater window safety
Optional factory or field mulling
Divided Lites available in Grilles-Between-the-Glass (GBG), Wood Interior Grilles, Simulated Divided Lites (SDL), or Simulated Divided Lites with spacer bar (SDLS)
Exterior finishes in

Stone White

, Pebble Gray, Bronze, Evergreen, Cashmere or Ebony
Interior in warm pine or factory pre-finished white paint
The option of using Exterior Trim for a more personalized exterior look
And like all Marvin Elevate products, the new Wood-Ultrex Casement and Awning windows come with a 10-day delivery guarantee. For more information, visit Marvin Elevate's Wood-Ultrex Insert Casement and Awning page.
"We are committed to offering a complete and comprehensive product line," said Becky Felling, Director of Marketing for Marvin Elevate Windows and Doors. "With casements and awnings being some of the most used windows on the market, the Wood-Ultrex Insert Casement and Awning windows are what our valued customers really wanted to see in our mix. These windows can work in a variety of homes and buildings, and they offer virtually worry-free toughness that looks great for years."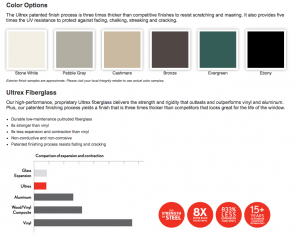 About Marvin Elevate Windows and Doors
Marvin Elevate Windows and Doors is the world's largest and most experienced manufacturer of windows and doors made with Ultrex — a state-of-the-art pultruded fiberglass material. We didn't just join the fiberglass revolution — we pioneered it. Our heritage as part of the Marvin family of companies is built on more than a century of excellence and expertise. Based in Fargo, N.D., Marvin Elevate offers a comprehensive line of window and door products that are Built to Perform® and backed by first-class customer service.
Photo – http://photos.prnewswire.com/prnh/20140916/146533
SOURCE Marvin Windows and Doors
Related articles