Just like tulips popping up in spring time, for sale signs are starting to go up in front lawns across the country.  This is the time when homeowners start to think about and plan outdoor work that will improve the curb appeal of their home, whether they plan to sell it now or continue to enjoy it for some time.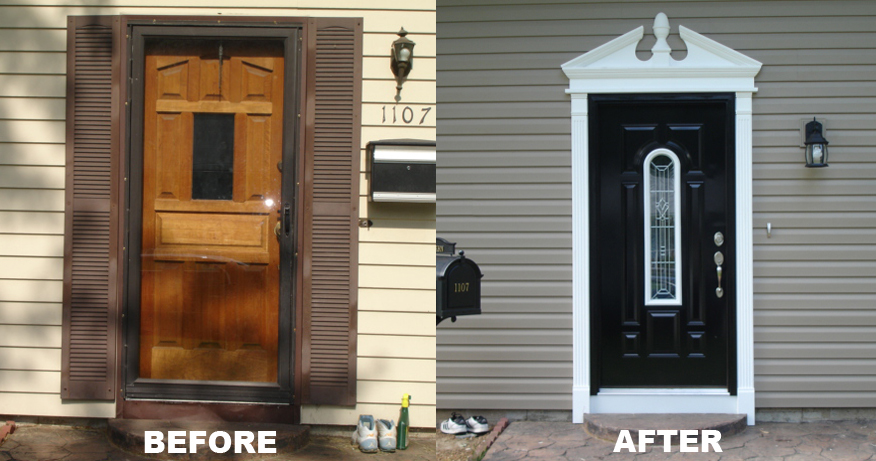 Your main entry door is likely the most used entrance to your home and goes through a great deal of abuse. Chances are your entry door is regularly pounded on and slammed shut without a second thought, not to mention the weather extremes it endures. This takes a toll and finding a door constructed well enough to stand up to both people and nature can be a challenge.
One of the most impactful improvements that homeowners can make to their home to improve curb appeal is to replace their entry door.  Buying a new entry door provides homeowners an opportunity to express their design aesthetic with custom colors, features or glass and improve the energy efficiency of their home.
According to REMODELING magazine's 2015 Cost vs. Value Report, replacing an entry door with a 20-gauge steel entry door is the #1 best value of any home improvement project, with a 101.8% return-on-investment.
"New Entry Doors Offer Great ROI The 2015 Cost vs. Value Report by Hanley Wood's Remodeling Magazine, rated replacement of an entry door with a 20-gauge steel door the #1 best exterior home improvement for return on investment, with a 101.8% ROI. ProVia Legacy Smooth Steel entry door, 460LAU, with Laurence-style glass and transom. Shown in Clay paint finish. Entry door replacement with a 20- gauge steel door is the only project that, on a national basis, more than pays back its investment (100% +) in the form of a better home resale price. ProVia's 20-gauge Legacy Steel line of entry doors offers the best in security, energy efficiency and curb appeal."
To help homeowners navigate all the options available when selecting a new entry door, ProVia has produced a series of articles and presentations to assist homeowners with their entry door decision.
This "How to Buy an Entry Door" article series includes:
Why a Custom Entry Door Might be the Best Option for Your Home
How to Buy an Entry Door:  Fiberglass vs. Steel
Important Facts about Painting or Staining your Entry Door